On January 1, 2020, I decided to kick off the new decade with a favorite film from 1920. I chose Buster Keaton's One Week, one of my favorites of his shorts. Little did any of us know what awaited us in this unprecedented year of hardships. Despite a rough year, I found peace in escaping to the past. Serving as my time machine was a variety of virtual screenings and fellow film lovers who helped make this year bearable. I would like to take the time to acknowledge and thank the following people for making 2020 a memorable year of film.
Silent Comedy Watch Party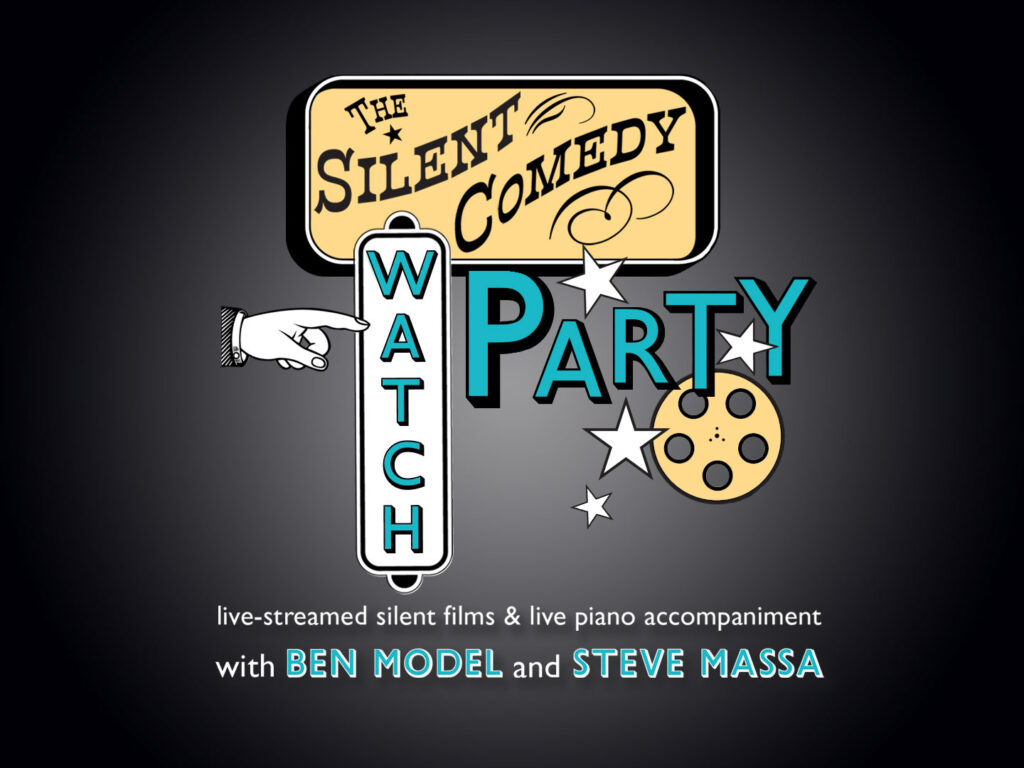 First and foremost, I must thank Ben Model and Steve Massa for their creation of the Silent Comedy Watch Party. The two began putting on a live virtual screening event with live musical accompaniment every Sunday afternoon beginning in March. The show contains silent comedy shorts from Ben Model's label Undercrank Productions and various film archives. Each film is paired with live piano accompaniment by Ben Model and commentary by both Steve Massa and Ben Model. Model and Massa are incredibly knowledgeable on the topic of silent film comedy that each episode is like a crash course on the subject. Through the Silent Comedy Watch Party, I have been introduced to several comedians such as Marcel Perez, Alice Howell, Martha Sleeper, Billy Bevan, and more. I also got to learn more about comedians I already enjoyed, such as Charlie Chase. The Silent Comedy Watch Party is an event that I continue to look forward to every Sunday. I highly recommend checking it out if you haven't already! Each episode is available on YouTube and I cannot emphasize enough how much of a treat that is for silent film fans.
Silent Comedy Watch Party YouTube channel
Pordenone Silent Film Festival
I have often dreamed of attending a silent film festival but unfortunately, I live in a silent film screenings desert. I never imagined that 2020 would be the year that I would finally get to attend one, albeit virtually. While a virtual film festival cannot compare to a live event, it was the best possible option for such a crazy year and I am beyond thankful for those who worked hard to make it happen. For under $15, attendees were granted access to several feature films, shorts, documentaries, interviews, and panels for a 10-day period.
In addition, Le Giornate del Cinema Muto has a "Silent Stream" where you can access silent films throughout the year for free. Each film is up for a limited time so enjoy them while you can!
I am not sure whether or not Pordenone will be virtual or in-person in 2021 but I can't say I wouldn't be thrilled if virtual was at least an option again!
Le Giornate del Cinema Muto website
Kennington Bioscope
Before COVID-19, the Kennington Bioscope Silent Comedy Weekend took place at the Cinema Museum in London. Unfortunately, the museum had to be closed and the live screenings have come to a temporary halt. Thankfully, they have been able to continue hosting silent film screenings virtually on the Kennington Bioscope YouTube channel. I started this one a little late but have enjoyed it tremendously. Each film includes an introduction by Michelle Facey and musical accompaniment by a variety of wonderful musicians. Facey is very knowledgeable and provides excellent introductions to each film. Episodes contain anywhere from a couple of films to several films. Much like the Silent Comedy Watch Party, these episodes remain available on YouTube and are a treat to be able to watch or revisit. Being from across the pond, it is great to get to see clips of the Cinema Museum before each episode. And that catchy tune is sure to get stuck in your head!
Kennington Bioscope YouTube channel
Retroformat Los Angeles
Another great streaming option is Retroformat Los Angeles. The non-profit company normally spreads the love of silent film through live screening events in Los Angeles. This past year, they moved online and started hosting Monday evening virtual screenings with live music accompaniment by the talented Cliff Retallick. Each film is introduced by Sean P. Malone, cinematographer and Retroformat board member. They have had special guests including Suzanne Lloyd, granddaughter of Harold Lloyd. All of the episodes are available on Retroformat's YouTube page and I highly recommend checking it out!
Retroformat Los Angeles website
Retroformat Los Angeles YouTube channel
Lastly, I would like to recommend a slew of archives and film foundations who have been uploading and keeping me company in 2020.
UCLA Film & Television Archive
San Francisco Silent Film Festival
Here's to a better 2021 and another year of streaming films!